Time is money right? But what if we told you you can control time and so save money? Sounds a little futuristic, but that's exactly what our heated towel racks with built-in timers will do for you. By using a timer, you're only running the heated towel rack for the time it takes to warm or dry the towel, thereby saving electricity (ka-ching!) while extending the life of the heating element.
A smart digital timer to suit your lifestyle
As you hop from store to store in search of electric heated towel racks with timers, you'll find some come with programmable timers that are either built-in, or work with external timers attached to the wall, and others with countdown timers, similarly built-in or wall-mounted. This is confusing - which one to choose!
Luckily, at Bathroom Butler a select line of our electric heated towel racks come with both functions available via the Total Digital Control Timer (TDC) that's built into the heated towel rack. This one-of-its-kind timer has four smart modes to suit your lifestyle: Auto-Run, Quick-Run, Always-On and Always-Off. It will also cleverly display the current power setting and allow you to adjust the temperature. Note that many other brands of heated towel racks use timers with presets that have absolutely no idea how long it takes to dry a towel. Not so with us.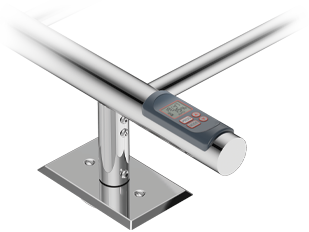 Which timer mode to use when?
The Quick-Run or countdown timer - found on a Bathroom Butler heated towel rack with a TDC timer or Wifi Switch - is nowhere near as nifty as a programmable timer, but it's great for occasional use and if you don't follow a strict daily routine. Here are some ways you could use it:
Set the countdown dial to start one hour before you shower, enjoy your warm towel afterwards and forget about everything. The timer will automatically turn off.

If you want to dry your towels but don't need them to be warm, simply set the timer for four to five hours depending on how damp the towels are, and they'll be perfectly dry when next you need them.
Maybe you're on a tight schedule and need things to happen like clockwork. This is when you pick the programmable Auto-Run mode on the TDC or Wifi Switch models. Here are some ways you could use it:
Program your heated towel rack to switch on twice a day for four/five hours at a time, drying your towels after the morning and evening bathroom routine.

Program it for a specific time, e.g. from 3 to 7am, giving you dry, toasty towels after your morning shower.

Program the timer to switch on at least one hour before showering, warming the towels, then leave it running for another four hours to dry the towels.
The Always-On function is great for busy households, those in cold, rainy or humid climates, or when guests are staying, while the Always-Off setting is ideal for when you go on vacation.
Heated towel racks - there's an App for that
With most US households wired for Wifi, using an App to control your devices has become second nature. And Bathroom Butler's Complete Smart Solution line of heated towel racks with Wifi-enabled wall switch and connected App are no exception.
With the discreetly built-in PTSelect (Personal Temperature Selection) Switch plus the wall-mounted Wemo Wifi switch, you can connect it to the home network and, via the free App, program it to switch on and off automatically from wherever you are in the world. You can also give a shout out to Amazon Alexa and Google Assistant to change your settings, or employ the clever If This, Then That App which gives you more control on days when everything else spins out of control.
We love our electric heated towel racks with Total Digital Control timers. They're smart, they're convenient, they're neatly built in the unit post, can be replaced without removing the rack, and they save you time and money. We know you'll love them too.