You've stencilled the bathroom tiles a gorgeous geometric pattern and installed floating lights above the tub. A big fern frames the far corner and you've hung a gilded statement mirror above the double vanity. With the bathroom makeover behind you, it's time to accessorize. A tricky task that can make or break the look of your new personal sanctuary.
There are many nice-to-have accessories that can take your bathroom to the next level - designer bathroom mats, a touch-free soap dispenser, a five-head rain shower or a copper, ventilated laundry basket.
But it's the must-have, practical bathroom accessories - from heated towel racks to toilet paper holders and a shower foot rest - that will transform your bathroom into one not only of sumptuous luxury but also of practical convenience. Let's see how to do that.
Accessorize with functional art
Your electric heated towel rack is probably the largest of all essential accessories, so it makes sense to use that as your anchor accessory style inspiration. Ok now you're ready. Where to start? Look at your bathroom, reach into your heart, then browse our heated towel rack collections. Yes, just like proper designers we have collections of heated towel racks. Natural, Cubic, Edge and Loft.
If you love all things understated and classic, our Natural collection of heated towel racks with their rounded profile will pair fabulously with our 4600 and 5800 series range of accessories. Ditto for the bold Edge and striking Loft collections.
If a square cut is more your style - and this is such a good choice for a hyper modern bathroom - you can combine the straight-cut Cubic collection with our 8500, 8600 and 9100 series of square-style accessories.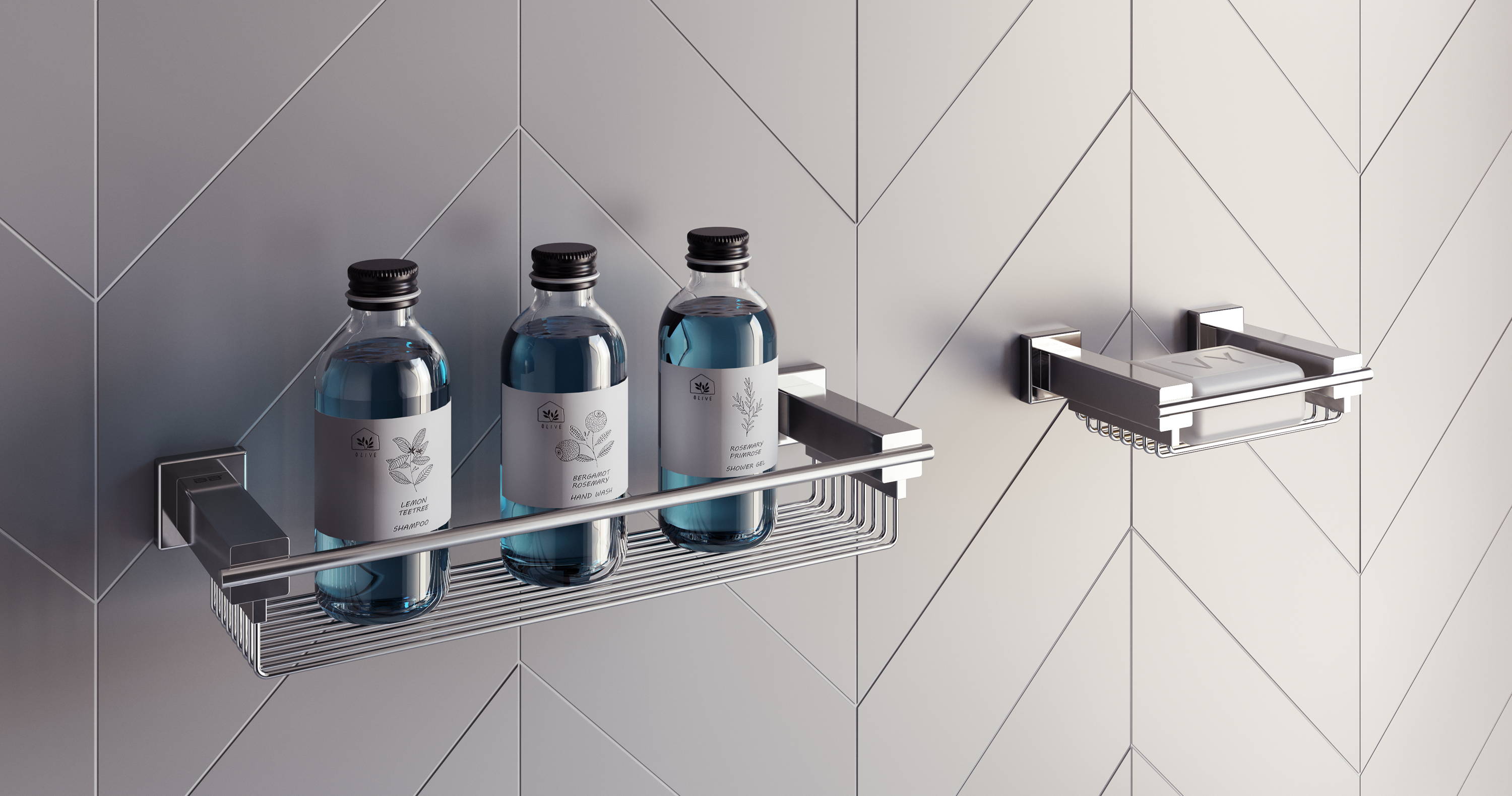 Putting it all together
Essential accessories may be small but they can have a great impact on the overall look of your bathroom, so choose a range with the same color, texture, size, shape and material for a cohesive look. Remember these accessories must also match or complement your faucets, mirror, shower head, door knobs or handles, even light fittings.
The standard accessories that you cannot do without are toilet paper holder, shower and soap shelves, heated towel rack and toilet brush. Complete the look by adding a glass tumbler, robe hook and, yes, a shower foot rest for the perfect weekly leg shave.
Choices, choices! It's like being a kid in a candy store.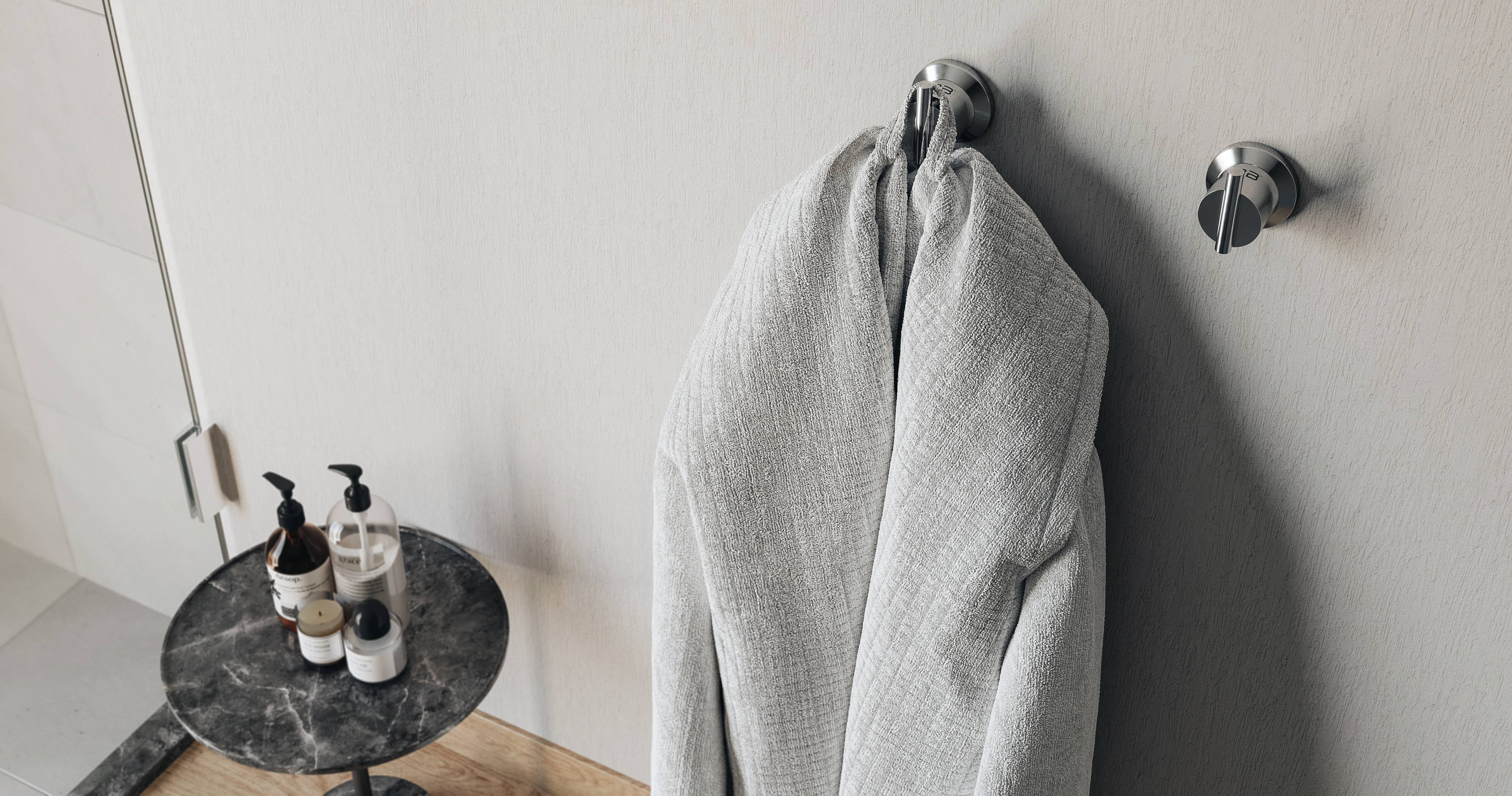 Color me beautiful
Of course we have just the right finishes to add extra personality to your bathroom. Sexy matte black is great for dark, moody bathrooms but also pops so nice against white marble tiles. The sleek, clean look of polished stainless steel is back with a bang (did it ever really go away?) and to be honest, goes with just everything. Or maybe you prefer the velvety feel of brushed stainless steel that pairs effortlessly with earthy hues such as tan, brown, beige, and hot-right-now wood-look tiles.
Pro tip: Whatever you do and no matter the temptation, stay away from chrome-plated steel. There's no industry standard regulating the quality of the plating and, if you end up with something lightly coated, it's going to chip, scratch and rust.
Designer Giorgio Armani famously said "Accessories are important and becoming more and more important every day. They can completely change the look of an outfit". He might as well have been musing about bathrooms. Now get to it.