Whether your bathroom is rustic, modern, traditional, minimalist or luxury; and whether it's super roomy, or slightly larger than a postage stamp, it's no longer simply a place to take a shower or brush your teeth. The current trend when renovating bathrooms or building them from the ground up is to create a private sanctuary that reflects your personal style and allows for innovative design and technology.
Think of black tubs, marbleized wallpaper, shaped tiles and functional accessories such as heated towel racks, mood lighting and music and, lo and behold, height-adjustable basins. One of these trends that has become increasingly accessible to most of us is heated towel racks. Not only are they super functional - they dry and warm your towels in no time - they are fast replacing regular towel rails that many predict will soon become a relic of the past.
As they say, the difference between something good and something great, is attention to detail.
The bathroom secrets of great hotels and spas
You know how hotels are urging us to 'help them save the planet' by reusing your towels? Well there's method in that madness. For one, if they don't have to wash and dry a gazillion towels a day, they would certainly save on electricity and water and so be kinder to the planet. We all want to be like that.
But this left the hoteliers with a headache: they promised a luxury experience and for many guests that means a new fluffy towel every day. They found the solution in heated towel racks that refresh damp towels in no time with the added bonus of killing off nasty bacteria and mold that normally grow on a slow, air-drying towel. The result? Happy, secretly eco-friendly guests.
Similarly any self-respecting spa would have heated towel racks lined up around every corner so you can envelop yourself in warm comfort after every treatment. In fact, we've become so used to the concept that it begs the question: why don't you have them in your own bathroom yet?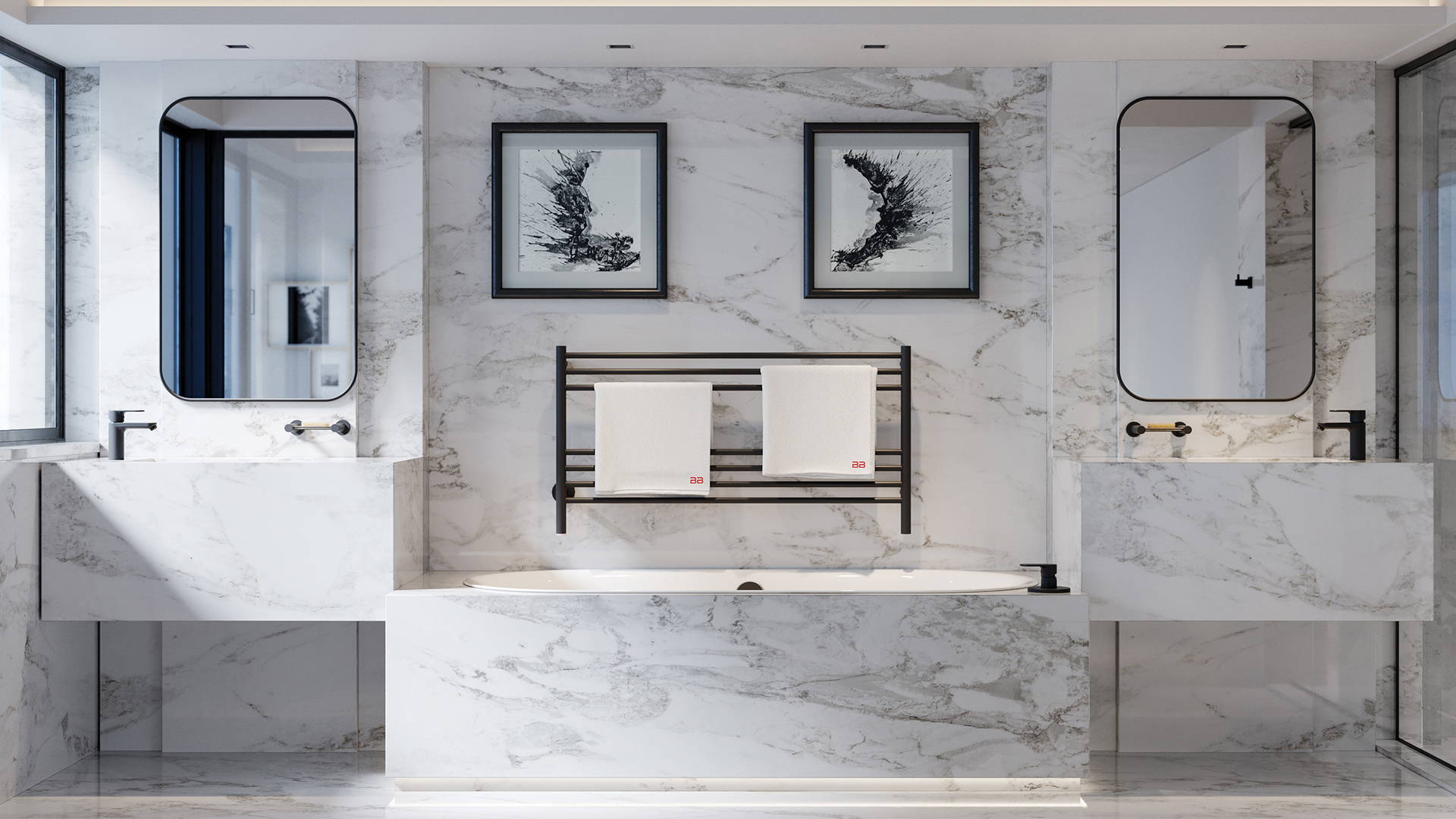 Out with the old, in with the new
While the idea of having heated towel racks in your personal bathroom is a relatively new concept for most of us, and we mostly only see them being installed in designer bathroom projects or upscale renovation projects in magazines or on decor shows, they have in fact been ubiquitous in Europe's bathrooms for decades, especially in colder countries. They are also increasingly being used in hotels and spas across Asia where high humidity means the towels take longer to dry. (Anyone in Florida or Louisiana listening?)
Thanks to advances in design and technology, heated towel racks are becoming as commonplace as taps and shower caddies and are in fact increasingly being sold as a standard bathroom accessory. Property developers are ensuring they are being fitted in most medium- to high-end new builds, while savvy home owners are installing them in their pool houses, home spas, and even on their yachts. In fact, design gurus predict that in time we'll use some form of towel warmer absolutely everywhere we use towels.
Super hosts use heated towel racks
Heated towel racks (some call them rails) are even becoming an added attraction for folks advertising their homes on Airbnb or other accommodation booking platforms. Many a super host questioned about towel placement will advise you to hang your newly washed towels on the heated towel rack where guests can find and use them as soon as they step into the home to wash their hands. Pure luxury and a hot selling point!
So, if you're ready to take that first step in adding some innovative design touches to your private bathroom retreat, a great place to start is with heated towel racks. Then the black tub and marbelized wallpaper and who knows, mood music piped from the ceiling too!